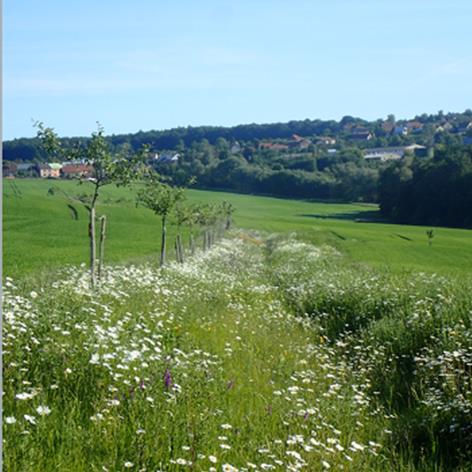 Brazde
Brazde su plitki i široki jarci na obradivom zemljištu s blagim padinama i malim uzdužnim gradijentom. One omogućuju presretanje, procjeđivanje i alternativnu odvodnju površinskog otjecanja. Treba ih propisno dimenzionirati kako bi ispunile funkcionalne zahtjeve i zahtijevaju održavanje.
Mogu postojati sinergije između mjera upravljanja rizicima od obilnih oborina i ostalih razvojnih ciljeva kao što je zaštita okoliša, zdravstvena skrb te ekonomska uspješnost. Njihovo korištenje zahtijeva uključenost različitih sudionika, razmjenu znanja i informacija između vas i njih te holističko razmišljanje.
READ MORE:
Výzkumný ústav vodohospodářský TGM (2018): Katalog přírodě blízkých opatření pro zadržení vody v krajině [Catalogue of green water retention measures in the landscape], URL: http://www.suchovkrajine.cz/vystupy (25.03.2020): Průleh
Amt der Oberösterreichischen Landesregierung (2015): Hangwassermanagement Maßnahmenkatalog [management of pluvial floods catalogue of measures] (unpublished brochure, online version accessible at URL: https://www.land-oberoesterreich.gv.at/222593.htm): Abflussmulden
PICTURES:
Výzkumný ústav vodohospodářský T. G. Masaryka. v.v.i.