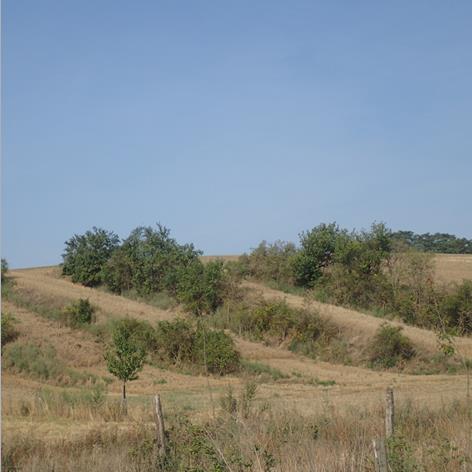 Meze
Meze jsou pásy nekultivované půdy oddělující pole od sebe. Pokud jsou meze orientovány ve směru vrstevnice, mohou zpomalit povrchový odtok a podporovat infiltraci. Nejvyšší účinnosti je dosaženo, když je opatření doprovázeno infiltračním pásem umístěným nad a brázdou umístěnou pod mezí. Implementace se doporučuje v případě, že jiné typy technických opatření jsou neúčinné nebo nemohou být implementovány.
Opatření ke snížení rizik spojených s přívalovými srážkami se mohou dobře doplňovat s opatřeními k dosažení jiných cílů (např. k ochraně životního prostředí, zlepšení zdravotní péče či zlepšení ekonomiky). Jejich implementace vyžaduje zapojení všech dotčených aktérů, výměnu informací a komplexní přístup k řešení.
Check out the RAINMAN good practice examples:
READ MORE:
Výzkumný ústav vodohospodářský TGM (2018): Katalog přírodě blízkých opatření pro zadržení vody v krajině [Catalogue of green water retention measures in the landscape], URL: http://www.suchovkrajine.cz/vystupy (25.03.2020): Mez
PICTURES:
Výzkumný ústav vodohospodářský T. G. Masaryka. v.v.i.