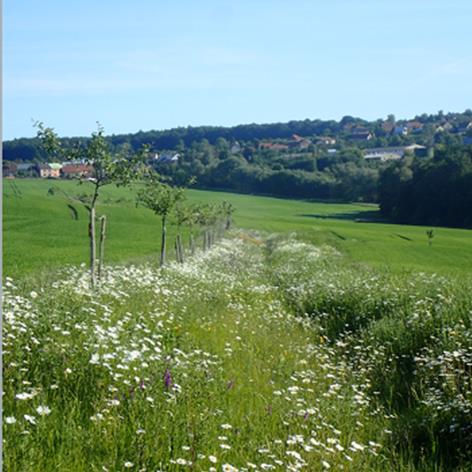 Abflussmulden
Abflussmulden sind flache und breite Gräben auf Ackerland mit leichten Neigungen und einem geringen Längsgefälle. Sie ermöglichen das Sammeln, die Versickerung und alternativ die Ableitung von Oberflächenabflüssen. Sie sollten entsprechend den funktionellen Anforderungen dimensioniert werden und erfordern entsprechende Unterhaltungsmaßnahmen.
Synergien zwischen Maßnahmen zum Management des Starkregenrisikos können zu anderen Entwicklungszielen bestehen, wie Umweltschutz, Gesundheitsfürsorge und wirtschaftliche Entwicklung. Diese nutzbar zu machen, erfordert die Einbeziehung verschiedener Akteure, die Durchsetzung des Austauschs zwischen Ihnen und ihnen und ein ganzheitliches Denken.
READ MORE:
Výzkumný ústav vodohospodářský TGM (2018): Katalog přírodě blízkých opatření pro zadržení vody v krajině [Catalogue of green water retention measures in the landscape], URL: http://www.suchovkrajine.cz/vystupy (25.03.2020): Průleh
Amt der Oberösterreichischen Landesregierung (2015): Hangwassermanagement Maßnahmenkatalog [management of pluvial floods catalogue of measures] (unpublished brochure, online version accessible at URL: https://www.land-oberoesterreich.gv.at/222593.htm): Abflussmulden
PICTURES:
Výzkumný ústav vodohospodářský T. G. Masaryka. v.v.i.