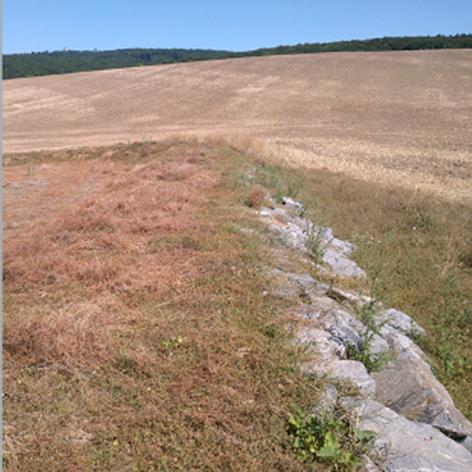 Verwallungen
Verwallungen zielen darauf ab, die Länge von Böschungen zu verkürzen und damit den Oberflächenabfluss zu verlangsamen und die Bodenerosion auf Ackerland zu verringern. Sie unterstützen auch die Versicherung in den Boden. Sie müssen hangparallel mit einem Nullgefälle in der Längsrichtung gebaut werden. Sowohl die Fläche vor dem Wall als auch seine Höhe müssen dem Wasserrückhaltebedarf einschließlich des Volumens des abgelagerten erodierten Materials entsprechen. Am häufigsten werden sie in Form von grasbewachsenen Erddämmen errichtet.
Synergien zwischen Maßnahmen zum Management des Starkregenrisikos können zu anderen Entwicklungszielen bestehen, wie Umweltschutz, Gesundheitsfürsorge und wirtschaftliche Entwicklung. Diese nutzbar zu machen, erfordert die Einbeziehung verschiedener Akteure, die Durchsetzung des Austauschs zwischen Ihnen und ihnen und ein ganzheitliches Denken.
READ MORE:
Výzkumný ústav vodohospodářský TGM (2018): Katalog přírodě blízkých opatření pro zadržení vody v krajině [Catalogue of green water retention measures in the landscape], URL: http://www.suchovkrajine.cz/vystupy (25.03.2020): Hrázka
PICTURES:
Výzkumný ústav vodohospodářský T. G. Masaryka. v.v.i.