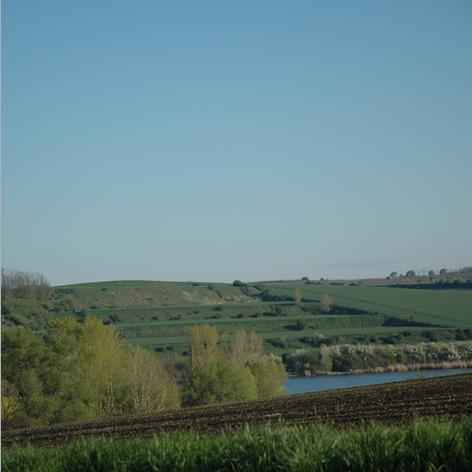 Formiranje terasa
Formiranje terasa je prastara tehnologija koja omogućuje poljoprivredu i građenje na strmom i razvedenom terenu. Poljoprivredne terase se sastoje od terasastih platformi i terasastih kosina ili zidova. U ruralnim krajevima, ovom se mjerom može smanjiti eroziju i površinsko otjecanje usporavanjem oborinske vode do brzine koja ne dovodi do erozije. Mjeru se preporučuje za poljoprivredno zemljište s nagibima >15°. Međutim, terase predstavljaju značajan utjecaj. Stoga mogu narušiti ekološke mehanizme krajolika. Stoga bi ih trebalo razmatrati kao krajnje rješenje za korištenje zemljišta kao poljoprivrednog ili građevinskog područja i jedino ako drugi načini korištenja zemljišta (npr. pošumljavanje) nisu mogući.
Uz smanjivanje rizika od poplava usporavanjem i skladištenjem površinskog otjecanja, ova mjera ima srednje ili velike moguće koristi za sljedeće biofizičke utjecaje i usluge ekosustava: smanjivanje erozije i/ili donosa nanosa; estetska/kulturna vrijednost; filtriranje onečišćujućih tvari
Check out the RAINMAN good practice examples:
no stories available
READ MORE:
Office International de l'Eau (2015): Natural Water Retention Measures, URL: http://nwrm.eu (19.03.2020): traditional terraces;
Výzkumný ústav vodohospodářský TGM (2018): Katalog přírodě blízkých opatření pro zadržení vody v krajině [Catalogue of green water retention measures in the landscape], URL: http://www.suchovkrajine.cz/vystupy (25.03.2020): Terasy
PICTURES:
Výzkumný ústav vodohospodářský T. G. Masaryka. v.v.i.