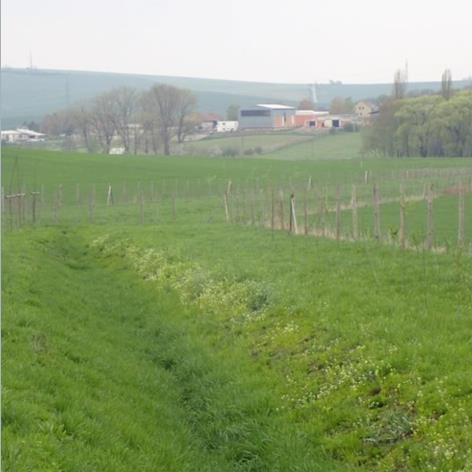 Stabilizacija putova otjecanja
Putovi koncentriranog površinskog otjecanja trebaju biti stabilizirani trajnim ozelenjavanjem kako bi se spriječila erozija. Može ih se ojačati kamenjem kako bi mogli pronositi koncentrirano površinsko otjecanje bez pojave erozije na putu. Najuobičajeniji oblik je parabola male dubine, koja je najsličnija onoj prirodno formiranih putova. Ova mjera zahtijeva zauzimanje poljoprivrednog zemljišta. Treba je provesti ako mjere za zaštitu tla nisu učinkovite za zaštitu tla od erozije. Kada ih prati odgovarajuća vegetacija, mogu biti dio teritorijalnog sustava ekološke stabilnosti. Učinak je pojačan kad na priljevnom području postoje druge mjere. Moglo bi biti potrebno rješavanje imovinsko-pravnih odnosa.
Uz smanjivanje rizika od poplava usporavanjem i skladištenjem površinskog otjecanja, ova mjera ima srednje ili velike moguće koristi za sljedeće biofizičke utjecaje i usluge ekosustava: presretanje putova onečišćenja; smanjivanje erozije i/ili donosa nanosa; filtriranje onečišćujućih tvari; povećavanje evapotranspiracije; povećanje procjeđivanja i/ili prihranjivanja podzemnih voda; povećanje zadržavanja vode u tlu; poboljšavanje kvalitete tla; upijanje i/ili zadržavanje CO2; prilagodba i ublažavanje utjecaja klimatskih promjena; očuvanje biološke raznolikosti; estetska/kulturna vrijednost; formiranje kopnenih staništa
READ MORE:
Office International de l'Eau (2015): Natural Water Retention Measures, URL: http://nwrm.eu (19.03.2020): filter strips
Výzkumný ústav vodohospodářský TGM (2018): Katalog přírodě blízkých opatření pro zadržení vody v krajině [Catalogue of green water retention measures in the landscape], URL: http://www.suchovkrajine.cz/vystupy (25.03.2020): Stabilizace dráhy soustředěného odtoku (DSO)
Landesamt für Umwelt, Landwirtschaft und Geologie (Ed.) (2016): Dezentraler Hochwasserschutz im ländlichen Raum, URL: https://publikationen.sachsen.de/bdb/artikel/13555 (25.03.2020): Dauergrünland in reliefbedingten Abflussbahnen
PICTURES:
Výzkumný ústav vodohospodářský T. G. Masaryka. v.v.i.