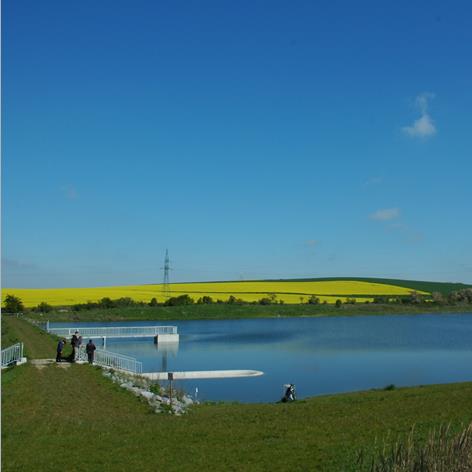 Male retencije
Retencije je, među ostalim kriterijima, moguće klasificirati prema veličini, no klasifikacija se razlikuje od države do države (npr. CZ <2 000 000 m³ na područjima manjima od 100 000 m³). Za upravljanje rizicima od obilnih oborina, od posebne su važnosti male retencije na manjim vodotocima. One mogu štititi objekte na područjima pod rizikom od negativnih učinaka poplava nakon obilne oborine i od čestica tla koje se pronose od erozijskih procesa. Mjera zahtijeva zauzimanje (često poljoprivrednog) zemljišta. Prema tome, nužno je rješavanje imovinsko-pravnih odnosa. Projektna dokumentacija, izdavanje dozvola i realizacija bi mogli biti zahtjevni.
Uz smanjivanje rizika od poplava usporavanjem i skladištenjem površinskog otjecanja, ova mjera ima srednje ili velike moguće koristi za sljedeće biofizičke utjecaje i usluge ekosustava: očuvanje biološke raznolikosti; estetska/kulturna vrijednost; presretanje putova onečišćenja; smanjivanje erozije i/ili donosa nanosa; formiranje vodenih staništa; filtriranje onečišćujućih tvari; skladištenje vode; prirodna proizvodnja biomase; prilagodba i ublažavanje utjecaja klimatskih promjena; rekreacijske mogućnosti; povećavanje evapotranspiracije; formiranje priobalnih staništa
Check out the RAINMAN good practice examples:
READ MORE:
Výzkumný ústav vodohospodářský TGM (2018): Katalog přírodě blízkých opatření pro zadržení vody v krajině [Catalogue of green water retention measures in the landscape], URL: http://www.suchovkrajine.cz/vystupy (25.03.2020): Malé vodní nádrže
PICTURES:
Výzkumný ústav vodohospodářský T. G. Masaryka. v.v.i.