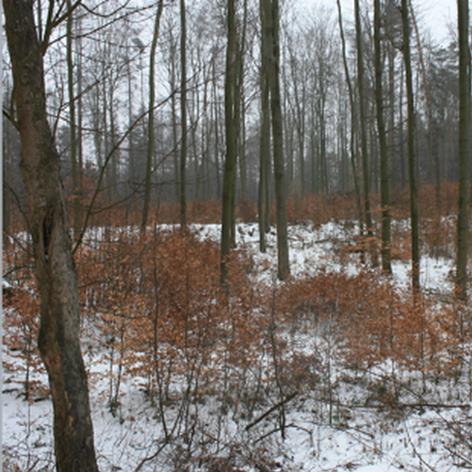 Dobro stanje šuma
Ova mjera počiva na održavanju dobrog stanja šuma kroz odgovarajuće upravljanje (npr. razvoj stabilnih, etažnih šuma neujednačene starosti, jednolikih sustava uzgojne sječe i stablimične sječe, panjača). Cilj je povećati procjeđivanje u tlo, usporiti površinsko otjecanje i smanjiti rizik erozije tla poboljšavanjem stanja odnosno zdravlja šume. Gospodarenje u šumama treba biti fokusirano na to da ih se dovede u prirodno stanje kako bi se povećala njihova otpornost a time i njihova sposobnost da zadrže oborinsku vodu i smanje rizik od bujičnih poplava na slivovima. Šumarstvo se treba prilagoditi vjerojatnim promjenama u obrascima oborina i poplava uslijed klimatskih promjena.
Uz smanjivanje rizika od poplava usporavanjem i skladištenjem površinskog otjecanja, ova mjera ima srednje ili velike moguće koristi za sljedeće biofizičke utjecaje i usluge ekosustava: očuvanje biološke raznolikosti; prilagodba i ublažavanje utjecaja klimatskih promjena; smanjivanje izvora onečišćujućih tvari; presretanje putova onečišćenja; smanjivanje erozije i/ili donosa nanosa; poboljšavanje kvalitete tla; smanjivanje vršne temperature; upijanje i/ili zadržavanje CO2; skladištenje vode; prirodna proizvodnja biomase; filtriranje onečišćujućih tvari; rekreacijske mogućnosti; estetska/kulturna vrijednost
Check out the RAINMAN good practice examples:
no stories available
READ MORE:
Office International de l'Eau (2015): Natural Water Retention Measures, URL: http://nwrm.eu (19.03.2020): continuous cover forestry
Výzkumný ústav vodohospodářský TGM (2018): Katalog přírodě blízkých opatření pro zadržení vody v krajině [Catalogue of green water retention measures in the landscape], URL: http://www.suchovkrajine.cz/vystupy (25.03.2020): Opatření v lesích, Tvorba polyfunkčního lesa, Omezení smrku ve 3. a 4. LVS, Hospodářský způsob (HZ) s trvalým půdním krytem, Nízký les, Ochranné lesní pásy (OLP), Hraze nístrží
PICTURES:
Výzkumný ústav vodohospodářský T. G. Masaryka. v.v.i.