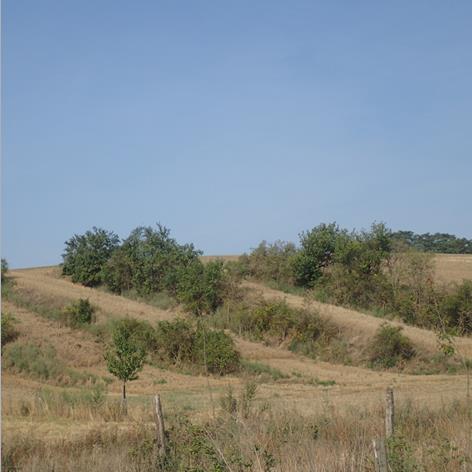 Feldraine
Feldraine sind Streifen unbewirtschafteten Landes, die Äcker voneinander trennen. Verlaufen sie entlang von Konturlinien, können sie den Oberflächenabfluss verlangsamen und die Versickerung fördern. Die höchste Effizienz erreichen sie, wenn sie mit einer Versickerungsmulde oberhalb und einer Bodenfurche unterhalb kombiniert werden. Die Durchführung der Maßnahme wird empfohlen, falls andere Arten struktureller Maßnahmen unwirksam sind oder nicht durchgeführt werden können.
Synergien zwischen Maßnahmen zum Management des Starkregenrisikos können zu anderen Entwicklungszielen bestehen, wie Umweltschutz, Gesundheitsfürsorge und wirtschaftliche Entwicklung. Diese nutzbar zu machen, erfordert die Einbeziehung verschiedener Akteure, die Durchsetzung des Austauschs zwischen ihnen und ein ganzheitliches Denken.
Check out the RAINMAN good practice examples:
READ MORE:
Výzkumný ústav vodohospodářský TGM (2018): Katalog přírodě blízkých opatření pro zadržení vody v krajině [Catalogue of green water retention measures in the landscape], URL: http://www.suchovkrajine.cz/vystupy (25.03.2020): Mez
PICTURES:
Výzkumný ústav vodohospodářský T. G. Masaryka. v.v.i.