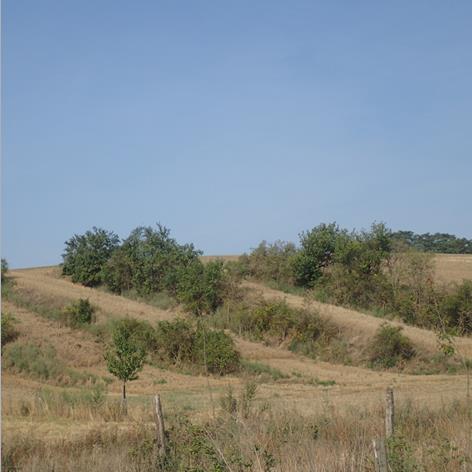 Miedze
Miedze to pasy nieuprawianej ziemi, które oddzielają od siebie pola uprawne. Jeśli przebiegają wzdłuż poziomic, mogą spowalniać spływ powierzchniowy i zwiększać infiltrację. Największa efektywność jest osiągana w połączeniu z pasem infiltracyjnym położonym powyżej i bruzdą znajdującą się poniżej miedzy. Wdrożenie tego działania jest zalecane, jeżeli inne rodzaje działań strukturalnych są nieskuteczne lub nie mogą być wykonane.
Synergie mogą występować między środkami związanymi z zarządzaniem ryzykiem opadów nawalnych oraz aspektami ukierunkowanymi na inne cele, jak np. ochrona środowiska, opieka zdrowotna czy działalność ekonomiczna. Wykorzystanie ich wymaga zaangażowania różnych podmiotów oraz wyegzekwowania wymiany między Wami i nimi, a także holistycznego myślenia.
Check out the RAINMAN good practice examples:
READ MORE:
Výzkumný ústav vodohospodářský TGM (2018): Katalog přírodě blízkých opatření pro zadržení vody v krajině [Catalogue of green water retention measures in the landscape], URL: http://www.suchovkrajine.cz/vystupy (25.03.2020): Mez
PICTURES:
Výzkumný ústav vodohospodářský T. G. Masaryka. v.v.i.