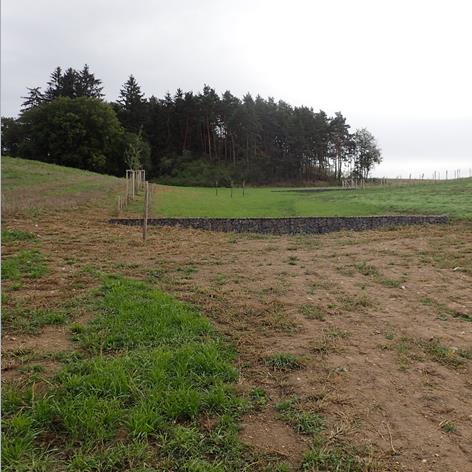 Pregrade (regulacijske brane)
Regulacijske brane funkcioniraju kao pregrade na brzim potocima i erozijskim jarcima ili obično sušnim putovima koncentriranog površinskog otjecanja. Može ih se izvesti u obliku praga ili stepenice. Ova mjera smanjuje uzdužne nagibe, služi akumuliranju površinskih voda i kontrolira brzinu koncentriranog površinskog otjecanja tijekom pojava obilnih oborina. Treba je provesti u slučaju neučinkovitosti manje intenzivnih mjera i obično zahtijeva dozvolu.
Mogu postojati sinergije između mjera upravljanja rizicima od obilnih oborina i ostalih razvojnih ciljeva kao što je zaštita okoliša, zdravstvena skrb te ekonomska uspješnost. Njihovo korištenje zahtijeva uključenost različitih sudionika, razmjenu znanja i informacija između vas i njih te holističko razmišljanje.
Check out the RAINMAN good practice examples:
READ MORE:
Výzkumný ústav vodohospodářský TGM (2018): Katalog přírodě blízkých opatření pro zadržení vody v krajině [Catalogue of green water retention measures in the landscape], URL: http://www.suchovkrajine.cz/vystupy (25.03.2020): Přehrážka
PICTURES:
Výzkumný ústav vodohospodářský T. G. Masaryka. v.v.i.