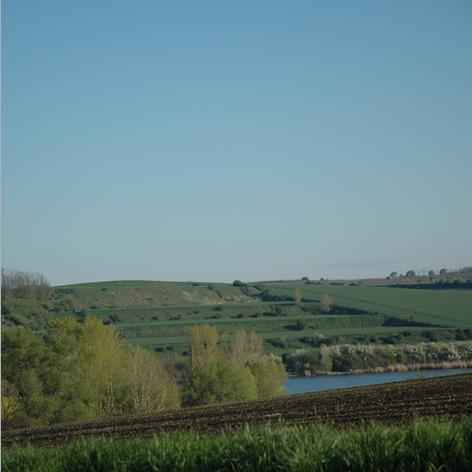 Terrassierung
Die Terrassierung ist eine uralte Technologie, die Landwirtschaft und Bauen auf steilem und zerklüftetem Gelände ermöglicht. Ackerbauterrassen bestehen aus Terrassenplattformen und Terrassenhängen oder -wänden. In ländlichen Gebieten kann die Maßnahme die Erosion und den Oberflächenabfluss durch Verlangsamung des ablaufenden Niederschlagswassers auf eine nicht erosive Geschwindigkeit reduzieren. Die Maßnahme wird für Ackerland mit Neigungen >15° empfohlen. Terrassen stellen jedoch eine bedeutende Einwirkung dar. Sie können die ökologischen Mechanismen der Landschaft verletzen. Aus diesem Grund sollten sie als äußerste Lösung für die Nutzung von Land als Acker- oder Baufläche und nur dann in Betracht gezogen werden, wenn andere Landnutzungen (z.B. Aufforstung) nicht möglich sind.
Zusätzlich zur Verringerung des Überflutungsrisikos durch Verlangsamung und Rückhalt des Oberflächenabflusses hat die Maßnahme einen mittleren oder hohen möglichen Nutzen für die folgenden biophysikalischen Auswirkungen und Ökosystemdienstleistungen: Minderung von Erosion und/oder Sedimenteintrag; Ästhetischer/kultureller Wert; Filterung von Schadstoffen
Check out the RAINMAN good practice examples:
keine Umsetzungsbeispiele vorhanden
READ MORE:
Office International de l'Eau (2015): Natural Water Retention Measures, URL: http://nwrm.eu (19.03.2020): traditional terraces;
Výzkumný ústav vodohospodářský TGM (2018): Katalog přírodě blízkých opatření pro zadržení vody v krajině [Catalogue of green water retention measures in the landscape], URL: http://www.suchovkrajine.cz/vystupy (25.03.2020): Terasy
PICTURES:
Výzkumný ústav vodohospodářský T. G. Masaryka. v.v.i.