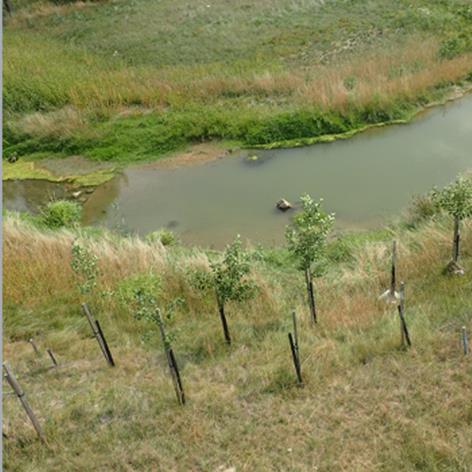 Schaffung von Überschwemmungsbereichen
Das Hauptziel dieser Gruppe von Maßnahmen ist es, die Umgestaltungs- und Staueffekte bestehender und neu zu erschließender Überschwemmungsgebiete durch Geländeänderungen wie Böschungsabsenkungen, Rückverlegung oder Abriss von Hochwasserschutzdeichen etc. zu verstärken. Dadurch kann das Wasser in den Zeiten erhöhter Wassermengen die Auen überfluten.
Zusätzlich zur Verringerung des Überflutungsrisikos durch Verlangsamung und Rückhalt des Oberflächenabflusses hat die Maßnahme einen mittleren oder hohen möglichen Nutzen für die folgenden biophysikalischen Auswirkungen und Ökosystemdienstleistungen: Minderung von Erosion und/oder Sedimentzufuhr; Schaffung von Wasserlebensräumen; Schaffung von Uferlebensräumen; natürliche Biomasseproduktion; Erhaltung der Artenvielfalt; Filterung von Schadstoffen; Erholungsmöglichkeiten; ästhetischer/kultureller Wert; Bodenverbesserung; Verlangsamung des Flusswassers; Unterbrechung von Schadstoffbahnen; Erhöhung der Verdunstung; Erhöhung des Bodenwasserrückhaltevermögens
Check out the RAINMAN good practice examples:
keine Umsetzungsbeispiele vorhanden
READ MORE:
Office International de l'Eau (2015): Natural Water Retention Measures, URL: http://nwrm.eu (19.03.2020): natural bank stabilisation
Výzkumný ústav vodohospodářský TGM (2018): Katalog přírodě blízkých opatření pro zadržení vody v krajině [Catalogue of green water retention measures in the landscape], URL: http://www.suchovkrajine.cz/vystupy (25.03.2020): Opatření v údolních nivách toků
PICTURES:
Výzkumný ústav vodohospodářský T. G. Masaryka. v.v.i.