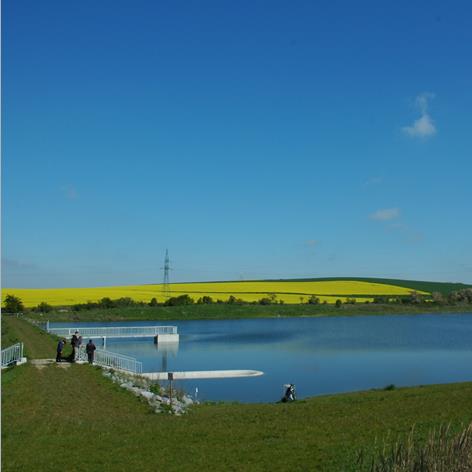 Kleine Rückhaltebecken
Rückhaltebecken können unter anderem nach der Größe unterteilt werden, wobei die Klassifizierung von Land zu Land unterschiedlich ist (z.B. CZ <2 000 000 m³ in Dtl. kleiner 100 000 m³). Für das Starkregenrisikomanagement sind gerade Kleinstauanlagen an kleinen Gewässern von besonderer Bedeutung. Sie können Objekte in Risikogebieten vor den negativen Auswirkungen von Überschwemmungen nach Starkregen und vor den transportierten Bodenpartikeln vor Erosionsprozessen schützen. Die Maßnahme erfordert eine Inanspruchnahme von (oft landwirtschaftlich genutzten) Flächen. Daher ist die Regelung der Eigentumsrechtsbeziehungen notwendig. Projektdokumentation, Baugenehmigung und Realisierung können anspruchsvoll sein.
Zusätzlich zur Verringerung des Überflutungsrisikos durch Verlangsamung und Rückhalt des Oberflächenabflusses hat diese Maßnahme einen mittleren oder hohen möglichen Nutzen für die folgenden biophysikalischen Auswirkungen und Ökosystemdienstleistungen: Erhaltung der Artenvielfalt; ästhetischer/kultureller Wert; Unterbrechung von Verschmutzungswegen; Verringerung von Erosion und/oder Sedimentzufuhr; Schaffung aquatischer Lebensräume; Filterung von Schadstoffen; Wasserspeicherung; natürliche Biomasseproduktion; Klimawandelanpassung und Klimaschutz; Erholungsmöglichkeiten; Erhöhung der Verdunstung; Schaffung von Uferlebensräumen
Check out the RAINMAN good practice examples:
READ MORE:
Výzkumný ústav vodohospodářský TGM (2018): Katalog přírodě blízkých opatření pro zadržení vody v krajině [Catalogue of green water retention measures in the landscape], URL: http://www.suchovkrajine.cz/vystupy (25.03.2020): Malé vodní nádrže
PICTURES:
Výzkumný ústav vodohospodářský T. G. Masaryka. v.v.i.