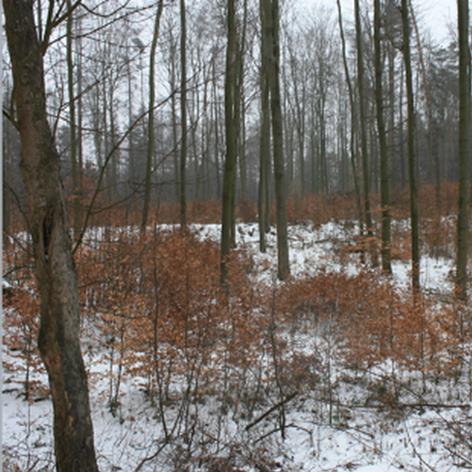 Guter Zustand der Wälder
Diese Maßnahme besteht in der Erhaltung eines guten Gesundheitszustandes der Wälder durch geeignete Bewirtschaftungsmethoden (z.B. Aufbau stabiler, stufiger, ungleichaltriger Wälder, Schirmschlagbetrieb, Niederwaldbetrieb). Ziel ist es, die Bodenversickerung zu erhöhen, den Oberflächenabfluss zu verlangsamen und die Gefahr der Bodenerosion durch die Verbesserung des Gesundheitszustandes der Wälder insgesamt zu verringern. Die Forstwirtschaft sollte sich darauf konzentrieren, die Wälder in einen natürlichen Zustand zu bringen, um ihre Widerstandsfähigkeit und damit ihre Fähigkeit, Niederschlagswasser zurückzuhalten, zu erhöhen und das Risiko von Sturzfluten in Wassereinzugsgebieten zu verringern. Die Forstwirtschaft sollte den wahrscheinlichen Veränderungen von Niederschlags- und Überflutungsmustern, die sich aus dem Klimawandel ergeben, Rechnung tragen.
Zusätzlich zur Verringerung des Überflutungsrisikos durch Verlangsamung und Rückhalt des Oberflächenabflusses hat die Maßnahme einen mittleren oder hohen möglichen Nutzen für die folgenden biophysikalischen Auswirkungen und Ökosystemdienstleistungen: Erhaltung der Artenvielfalt; Klimawandelanpassung und Klimaschutz; Minderung von Schadstoffquellen; Unterbrechung von Verschmutzungswegen; Minderung von Erosion und/oder Sedimentzufuhr; Bodenverbesserung; Senkung von Temperaturspitzen; Aufnahme und/oder Speicherung von CO2; Wasserspeicherung; natürliche Biomasseproduktion; Filterung von Schadstoffen; Erholungsmöglichkeiten; ästhetischer/kultureller Wert
Check out the RAINMAN good practice examples:
keine Umsetzungsbeispiele vorhanden
READ MORE:
Office International de l'Eau (2015): Natural Water Retention Measures, URL: http://nwrm.eu (19.03.2020): continuous cover forestry
Výzkumný ústav vodohospodářský TGM (2018): Katalog přírodě blízkých opatření pro zadržení vody v krajině [Catalogue of green water retention measures in the landscape], URL: http://www.suchovkrajine.cz/vystupy (25.03.2020): Opatření v lesích, Tvorba polyfunkčního lesa, Omezení smrku ve 3. a 4. LVS, Hospodářský způsob (HZ) s trvalým půdním krytem, Nízký les, Ochranné lesní pásy (OLP), Hraze nístrží
PICTURES:
Výzkumný ústav vodohospodářský T. G. Masaryka. v.v.i.