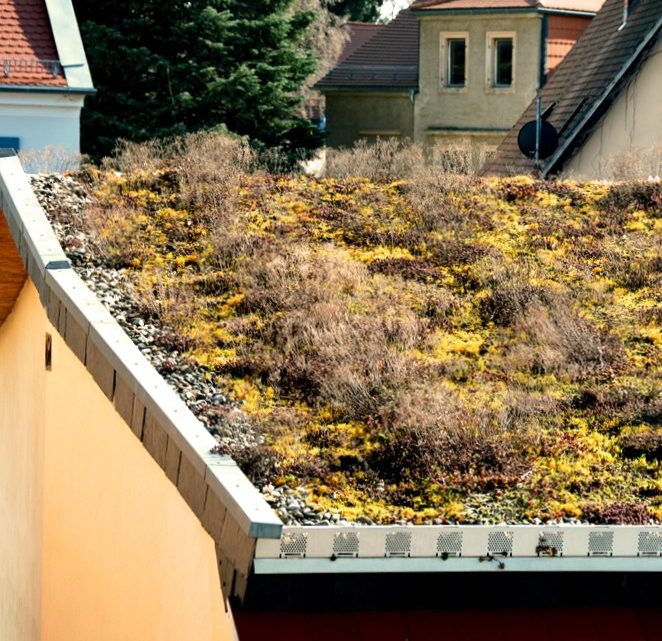 Zielone dachy
Połączenie wegetacji roślinnej i substratu glebowego na dachach umożliwia zatrzymywanie wody podczas opadu i rozciągnięte w czasie parowanie (transpirację z roślin) po opadzie. Można wyróżnić dwa systemy zielonych dachów, różniących się poziomem pielęgnacji: dachy zielone ekstensywne i intensywne.
Oprócz zmniejszenia ryzyka zalania poprzez spowolnienie i retencję wód powierzchniowych działanie to niesie z sobą średnie lub duże ewentualne korzyści dla poniższych oddziaływań biofizycznych i usług ekosystemowych: zwiększenie parowania dyfuzyjnego; adaptacja do zmiany klimatu i ochrona klimatu; walory estetyczne / kulturalne
Check out the RAINMAN good practice examples:
Ukázka dobré praxe není k dispozici.
READ MORE:
Office International de l'Eau (2015): Natural Water Retention Measures, URL: http://nwrm.eu (19.03.2020): green roofs
Freie Hansestadt Bremen, Senator für Umwelt, Bau und Verkehr (SUBV) (Ed.) (2015: Merkblatt für eine wassersensible Stadt- und Freiraumgestaltung: Empfehlungen und Hinweise für eine zukunftsfähige Regenwasserbewirtschaftung und eine Überflutungsvorsorge bei extremen Regenereignissen in Bremen, URL: https://www.klas-bremen.de/detail.php?gsid=bremen02.c.740.de (25.03.2020): Begrünung von Dachflächen
PICTURES:
Dominic Rumpf, Saxon State Office for Environment, Agriculture and Geology