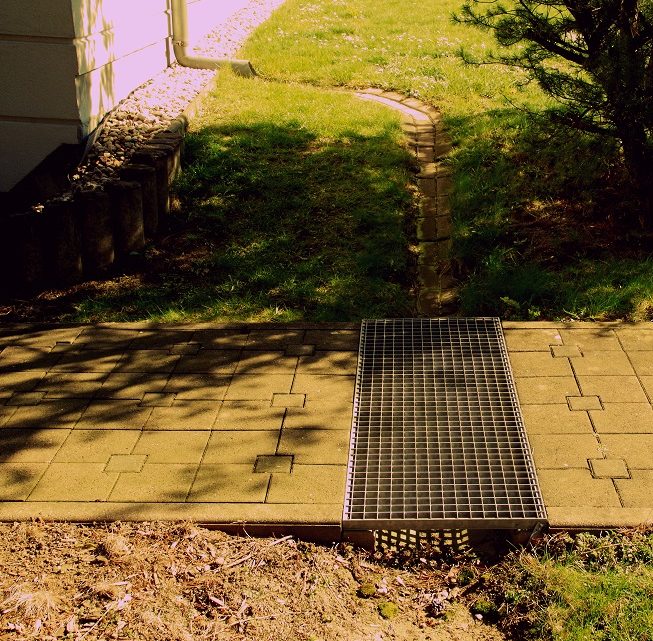 Instalacja odwodnieniowa do odprowadzania wód powierzchniowych od budynków i zwiększania retencji i infiltracji na działce
Na działce gruntowej poprzez m.in. zmianę spadku, tworzenie struktury niecek wzgl. wykonanie elemntów strukturalnych tworzone są wstępnie zdefiniowane ścieżki spływu, które w przypadku zdarzenia polegającego na nagromadzeniu się wód stokowych kieruja wodę obok chronionego obiektu. Na działce gruntowej tworzone są obszary, na których woda stokowa może być przechwytywana i ewentualnie infiltrowana w zamierzony sposób do podłoża. Mogą to być m.in. zbiorniki/niecki, rowy odwadniające itd.
Synergie mogą występować między środkami związanymi z zarządzaniem ryzykiem opadów nawalnych oraz aspektami ukierunkowanymi na inne cele, jak np. ochrona środowiska, opieka zdrowotna czy działalność ekonomiczna. Wykorzystanie ich wymaga zaangażowania różnych podmiotów oraz wyegzekwowania wymiany między Wami i nimi, a także holistycznego myślenia.
Check out the RAINMAN good practice examples:
Ukázka dobré praxe není k dispozici.
READ MORE:
Amt der Oberösterreichischen Landesregierung (2015): Hangwassermanagement Maßnahmenkatalog [management of pluvial floods catalogue of measures] (unpublished brochure, online version accessible at URL: https://www.land-oberoesterreich.gv.at/222593.htm): Abflussgraben, Abflussmulde, Rohrleitungen
Hamburg Wasser (Ed.) (2012): Wie schütze ich mein Haus vor Starkregenfolgen?: ein Leitfaden für Hauseigentümer, Bauherren und Planer [How do I protect my house from the effects of heavy rain?: a guide for homeowners, builders and planners], URL: http://www.hamburg.de/contentblob/3540740/data/leitfaden-starkregen.pdf (20.03.2020): Dränung
PICTURES:
Sabine Scharfe, Saxon State Office for Environment, Agriculture and Geology