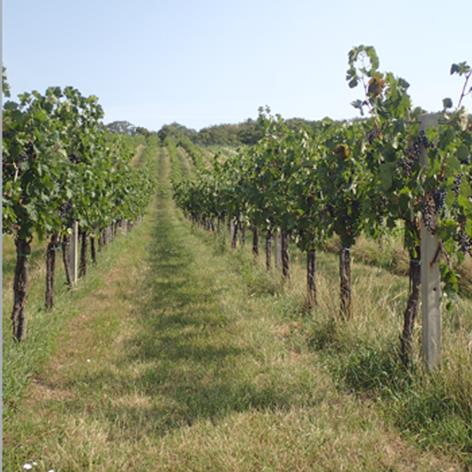 Dauerhafte Begrünung von Plantagen
Die permanente Begrünung oder die Anlage einer mehrjährigen Pflanzendecke in Weinbergen, Hopfen- und Obstplantagen mindert den Oberflächenabfluss und die Erosion. Die Vegetation reguliert die Erosion, indem sie den Boden vor der Verlagerung durch Niederschlagseinwirkung schützt und die Geschwindigkeit und Menge des Abflusses an der Oberfläche verringert. Die Maßnahme sollte von anderen linienhaften biotechnologischen Maßnahmen (z.B. Gräben) begleitet werden und insbesondere auf Hängen >7° durchgeführt werden bzw. >4°auf weniger durchlässigen Böden).
Zusätzlich zur Verringerung des Überflutungsrisikos durch Verlangsamung und Rückhalt des Oberflächenabflusses hat die Maßnahme einen mittleren oder hohen möglichen Nutzen für die folgenden biophysikalischen Auswirkungen und Ökosystemdienstleistungen: Schadstoffwege unterbrechen; Erosion und/oder Sedimenteintrag mindern; Filterung von Schadstoffen; Verdunstung fördern; Versickerung und/oder Grundwasseranreicherung erhöhen; Bodenwasserrückhaltevermögen erhöhen; Boden verbessern; CO2 absorbieren und/oder zurückhalten; Anpassung an den Klimawandel und Begrenzung des Klimawandels
Check out the RAINMAN good practice examples:
keine Umsetzungsbeispiele vorhanden
READ MORE:
Office International de l'Eau (2015): Natural Water Retention Measures, URL: http://nwrm.eu (19.03.2020): green cover
Výzkumný ústav vodohospodářský TGM (2018): Katalog přírodě blízkých opatření pro zadržení vody v krajině [Catalogue of green water retention measures in the landscape], URL: http://www.suchovkrajine.cz/vystupy (25.03.2020): opatření na speciálních kulturách
PICTURES:
Výzkumný ústav vodohospodářský T. G. Masaryka. v.v.i.