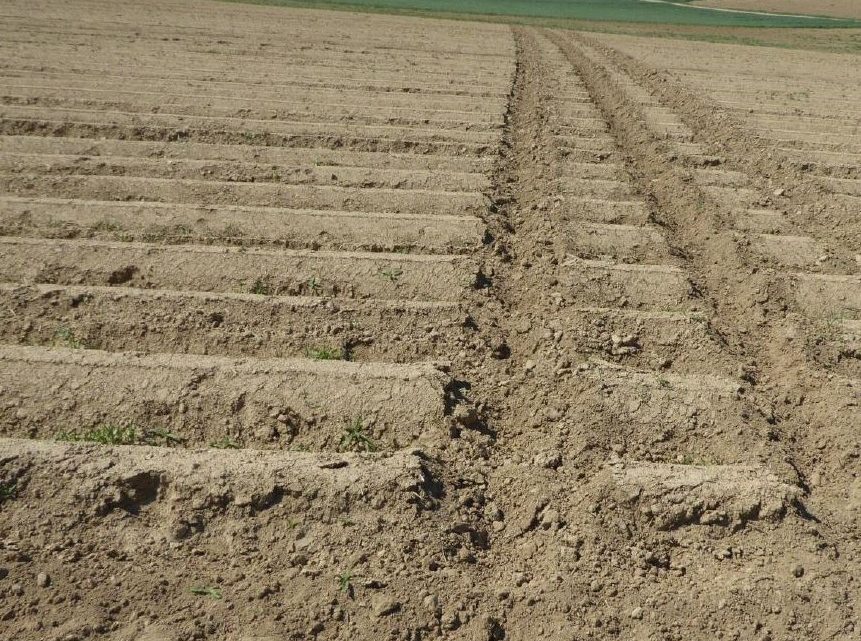 Orka w poprzek stoku, unikanie bruzd biegnących w dół stoku.
W celu zapobieżenia rozwojowi dróg spływu i poprawy retencji na lekko pochyłym terenie należy prowadzić uprawę gruntu ornego w poprzek stoku, wzdłuż warstwic. Najlepiej byłoby, gdyby gleba była uprawiana na wzór szachownicy, aby kontrolować i spowalniać spływ wody po powierzchni terenu. Unikanie bruzd zgodnych z kierunkiem spadku terenu zapobiega powstawaniu ścieżek spływu. Na terenach zalesionych odpływu może być zmniejszony unikaniu lokalizowania dróg wywozu drewna w dół stoku.
Oprócz zmniejszenia ryzyka zalania przemieszczającymi się powierzchniowo wodami opadowymi na skutek spowolnienia i retencji tych wód działanie to niesie dodatkowe korzyści (średnie lub duże) wpływając na przemiany biofizyczne i poprzez usługi ekosystemowe, tj.: zwiększenie infiltracji i odbudowę wód podziemnych; zmniajeszenie erozji i ilości wypłukiwanych cząstek gruntu, redukcję ilości substancji szkodliwych; polepszenie warunków gruntowo-wodnych.
Check out the RAINMAN good practice examples:
Ukázka dobré praxe není k dispozici.
READ MORE:
PICTURES:
Saxon State Office for Environment, Agriculture and Geology