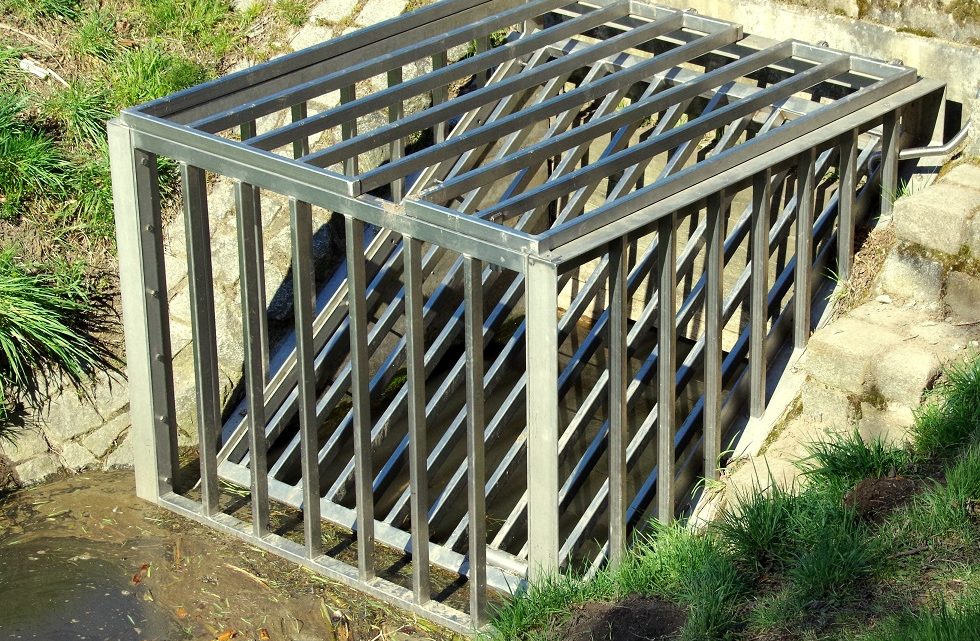 Urządzenia do zatrzymywania rumowiska wleczonego (niecki retencyjne rumowiska wleczonego i urzadzenia wychwytujące, jak kraty drewniane i kraty wlotowe)
Zbiorniki wychwytujące piasek i rumowisko wleczone są to urządzenia techniczne, znajdujące się w korycie głównym lub kanale dodatkowym rzeki. W przypadku powodzi spowalniają one prędkość wody i prowadzą do kontrolowanego osadzania unoszonego z wodą materiału. W celu zapobieżenia blokowania dróg wodnych przez rumowisko wleczone i drewno w lasach i na obszarach użytkowanych rolniczo, na wodach płynących mogą być montowane kraty drewniane lub metalowe, które zatrzymują unoszony z wodą materiał. Kraty wlotowe są to konstrukcje stalowe, które zapobiegają negatywnemu oddziaływaniu rumowiska wleczonego na wloty w systemach odwadniających. Tego rodzaju konstrukcje stosowane są zazwyczaj w pobliżu obszarów zasiedlonych. Wszystkie urządzenia do retencji osadów i rumowiska wleczonego wymagają stałej kontroli i konserwacji.
Synergie mogą występować między środkami związanymi z zarządzaniem ryzykiem opadów nawalnych oraz aspektami ukierunkowanymi na inne cele, jak np. ochrona środowiska, opieka zdrowotna czy działalność ekonomiczna. Wykorzystanie ich wymaga zaangażowania różnych podmiotów oraz wyegzekwowania wymiany między Wami i nimi, a także holistycznego myślenia.
Check out the RAINMAN good practice examples:
READ MORE:
PICTURES:
Sabine Scharfe, Saxon State Office for Environment, Agriculture and Geology