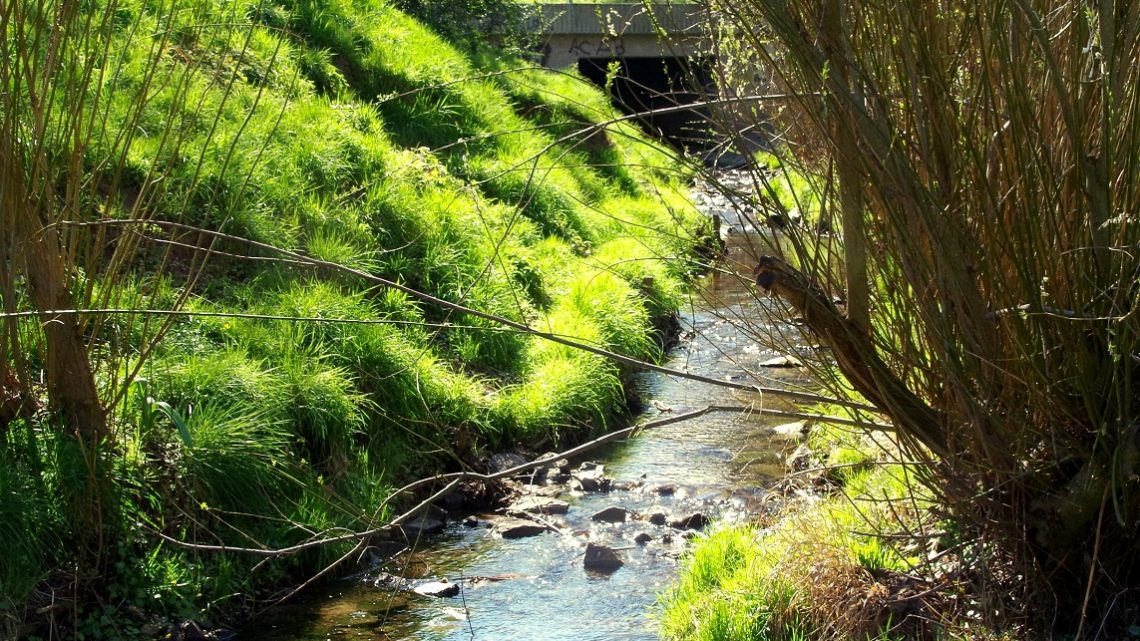 Strefy buforowe roślinności nadbrzeżnej i obszary z oczyszczalniami hydrofitowymi w celu ochrony wód przed zanieczyszczeniem
Działanie obejmuje wykorzystanie roślinności w systemach gromadzących wodę. Dzięki czemu przyczyniają się do oczyszczania wody opadowej i wydłużania czasu retencji. Roślinność może być stosowana jako strefy buforowe wokół zbiornika wodnego (akwenów). Substancje szkodliwe są wytrącane (uwalniane) na skutek intensywnej sedymentacji i pobierania przez roślinność brzegową oraz na skutek pochłaniania przez bariery biogeochemiczne, np. w formie gabionów wypełnionych dolomitem lub wapieniem i przykrytych matą kokosową. Są one szczególnie ważne w przypadku dopływu silnie zanieczyszczonej wody po zdarzeniach opadu nawalnego.
Oprócz zmniejszenia ryzyka zalania poprzez spowolnienie i retencję płynących wód opadowych działanie to ma dodatkowe korzyści (średnie lub duże) w postaci przemian biofizycznych i usług ekosystemowych. m.in. w postaci: zatrzymania spływu substancji szkodliwych, zmniejszenie erozji i liości doprowadzanych osadów, filtrowanie substancji szkodliwych, zwiększenie parowania powierzchniowego, zwiększenie zasilania infiltracyjnego i odnowy wód podziemnych, zwiększenie pojemności retencyjnej gleby; poprawa warunków gruntowo-wodnych; pobieranie i/lub wiązanie CO2; adaptacja do zmiany klimatu i ochrona klimatu; utrzymanie różnorodności gatunkowej; walory estetyczne/kulturalne; tworzenie biotopów lądowych.
Check out the RAINMAN good practice examples:
Ukázka dobré praxe není k dispozici.
READ MORE:
Office International de l'Eau (2015): Natural Water Retention Measures, URL: http://nwrm.eu (19.03.2020): filter strips
PICTURES:
Sabine Scharfe, Saxon State Office for Environment, Agriculture and Geology