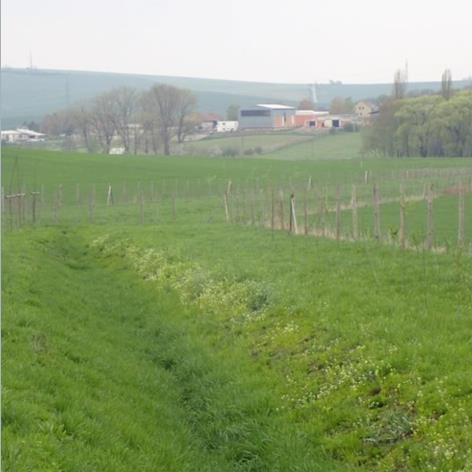 Begrünung erosionsgefährdeter Abflussbahnen
Bahnen, in denen Oberflächenwasser konzentriert abfließt, sollten zur Verhinderung von Erosion durch Dauerbegrünung stabilisiert werden. Man kann dies mit Steinen verstärken, so dass der konzentrierte Oberflächenabfluss ohne Erosionserscheinungen abläuft. Die übliche Form für begrünte Abflussbahnen ist eine Parabel mit geringer Tiefe, die der Form der natürlich geformten Abflussbahnen entspricht. Die Maßnahme erfordert eine Inanspruchnahme landwirtschaftlicher Fläche. Sie sollte immer dann durchgeführt werden, wenn konservierende Maßnahmen nicht ausreichen, um den Boden vor Erosion zu schützen. Wenn begrünte Abflussbahnen von geeigneter Vegetation begleitet werden, können sie Teil des ökologischen Systems des Gebietes sein. Ihre Wirkung wird verstärkt, wenn andere risikomindernde Maßnahmen in dem betreffenden Gebiet durchgeführt werden. Eine Veränderung der Besitzrechtsverhältnisse kann erforderlich sein.
Zusätzlich zur Verringerung des Überflutungsrisikos durch Verlangsamung und Rückhalt des Oberflächenabflusses hat die Maßnahme einen mittleren oder hohen möglichen Nutzen für die folgenden biophysikalischen Auswirkungen und Ökosystemdienstleistungen: Schadstoffwege unterbrechen; Erosion und/oder Sedimenteintrag verringern; Filterung von Schadstoffen; Verdunstung erhöhen; Versickerung und/oder Grundwasseranreicherung erhöhen; Bodenwasserrückhaltevermögen verbessern; Boden verbessern; CO2 absorbieren und/oder festhalten; Anpassung an den Klimawandel und dessen Abschwächung; Artenvielfalt erhalten; ästhetischer/kultureller Wert; Landlebensräume schaffen
READ MORE:
Office International de l'Eau (2015): Natural Water Retention Measures, URL: http://nwrm.eu (19.03.2020): filter strips
Výzkumný ústav vodohospodářský TGM (2018): Katalog přírodě blízkých opatření pro zadržení vody v krajině [Catalogue of green water retention measures in the landscape], URL: http://www.suchovkrajine.cz/vystupy (25.03.2020): Stabilizace dráhy soustředěného odtoku (DSO)
Landesamt für Umwelt, Landwirtschaft und Geologie (Ed.) (2016): Dezentraler Hochwasserschutz im ländlichen Raum, URL: https://publikationen.sachsen.de/bdb/artikel/13555 (25.03.2020): Dauergrünland in reliefbedingten Abflussbahnen
PICTURES:
Výzkumný ústav vodohospodářský T. G. Masaryka. v.v.i.