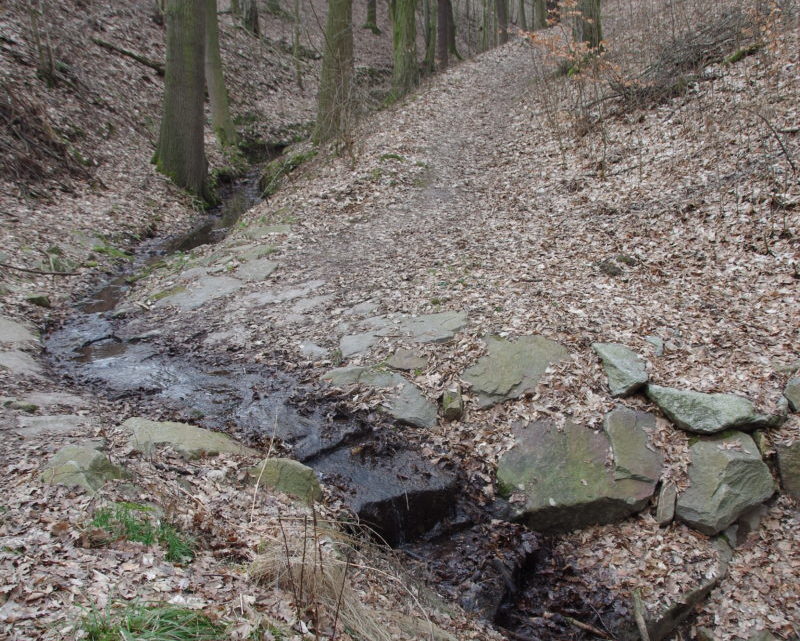 Właściwe kształtowanie dróg nieutwardzonych i przepraw wodnych w lasach
Drogi leśne winny być kształtowane w ten sposób, aby wody opadowe nie spływały szybko w dół, lecz kierowane były do wnętrza lasu. Istnieją różnorodne rozwiązania służace drenażowi dostosowane do różnych wymagań utrzymania lasu (np. rynny odprowadzjące wodę, przepusty). Aby kierować wodę muszą one być stosowane w połączeniu z obwałowaniami. Nowe drogi leśne powinny być starannie planowane i wykonywane tylko w wyjątkowych przypadkach. Dobrym rozwiązaniem w przypadku małych przepraw wodnych moze być zastępowanie mostów lub przepustów brodami – np. po powstaniu szkód powodziowych. Zmniejsza to ryzyko blokad i przypadków podtopień.
Oprócz zmniejszenia ryzyka powodzi poprzez spowolnienie i zmniejszenie spływu powierzchniowego działanie to może przynosić średnie lub duże korzyści dla środowiska: zmniejszenie erozji i przemieszczania osadów, tworzenie siedlisk wodnych, ochrona bioróżnorodności, spowolnienie nurtu rzeki, retencja, redukcja zanieczyszczeń, polepszenie walorów estetycznych/kulturowych.
Check out the RAINMAN good practice examples:
READ MORE:
PICTURES:
Sabine Scharfe, Saxon State Office for Environment, Agriculture and Geology